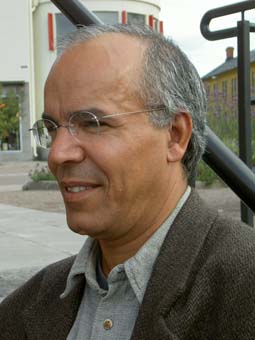 35 YEARS RETROSPECTIVE - Dalarnas museum Falun
Modhir Ahmed (f. 1956 i Bagdad) är allmänt erkänd som en av de viktigaste samtida
konstnärerna i Skandinavien med rötter i arabvärlden. Under hela sin karriär har
Ahmed kontinuerligt presenterat en kraftfull och stimulerande skapandeprocess av
nutida identitet och representation – i teckning och måleri, grafik och blandteknik.
Bor i Falun, Dalarna. Jobbar som ledare för Konstgrafiska Verkstad.
Born 1956, Baghdad, Iraq.
Lives and work in Falun, Sweden since 1992 as Director of Falu Konstgrafiska Verkstad.

EDUCATION
1974-79 Institute of Fine Arts-Baghdad, Iraq
1981-86 Academy of Fine Arts-Warsaw, Poland
1990-91 Computer Graphics- Skövde, Sweden

AWARDS & SCHOLARSHIPS
1986 Polish Cultural Department Scholarship, Warsaw, Poland
1992 The 10th Norwegian International Print Triennial, Fredrikstad, Norway (Jury prize)
1995 The 11th Norwegian International Print Triennial, Fredrikstad, Norway (1st prize)
1997 The Annie Bergman Graphic Fund, Sweden
1999 Schreiters Travel Scholarship in Grafikens Hus, Mariafred, Sweden
2000 Alfred Nobel Art Scholarship, Karlskoga, Sweden
Xth Józef Gielniak Graphic Art Competition, Jelenia Góra, Poland (Distinction)
2002 11th International Small Graphic Forms, Lódz, Poland (Medal of Honour)
2003 International Print Triennial, Cracow, Poland (Award of Canson Poland)
2006 5th Egyptian International Print Triennial, Cairo, Egypt (Triennial prize)
Award of Andrioll Drawing Competition, Naleczow, Poland 7e Triennale De Chamalières, France (Jury prize)
2008 13th International Small Graphic Forms, Lódz, Poland (Medal of Honour)
2009 2nd Guanlan International Print Biennial 2009, Shenzhen, China (International Print Prize)
International Drawing Triennial MANU PROPRIA, 2009, Tallinn, Estonia
International Print Triennale-Kraków-2009, Kraków, Poland (Statutory Award)